What would a cleaner, and more organized home mean to you?
Could it mean more time for family. for friends, for travel, or for entertainment? Whatever it means to you we can help.
Just, Imagine coming home to a bright, shiny, clean house at the end of a long day…How good would that feel not to have to worry about what is next to get done.
One call to MAID IN WINDSOR can make that happen.
We offer residential housekeeping to help reduce the stress on you.
Leave the cleaning to us so you can be free to do the things you really enjoy.
Get started, call us today at 519-971-2114 or fill out the form on the left. We'll be in touch promptly. Thank you.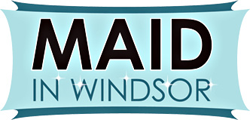 Maid In Windsor:
DOES NOT not move heavy appliances.
Yes, we CAN and will be HAPPY to clean behind heavy appliances when the customer moves them out.
We DO move light furniture.
We DO NOT do outside windows or pull windows in. If the customer wants the window/screen done with the screen behind, they need to remove it.