Request Service
Contact Maid in Windsor
We'll get right back to you
Customer Service is just a phone call away. Your call will personally be answered by a customer service professional who will address your enquires on scheduling or cleaning.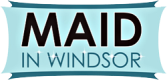 Maid in Windsor is a locally owned and operated company. We began operation in May of 2005 and we are grateful for our customers support.
Maid in Windsor is comprised of owner operators and team members that are committed to the City of Windsor.
Individual team members always aim to please. We have a terrific team who are committed and passionate about what they do. Some team members have been with us for more than six years.
Each team member is trained by the owner, allowing for a continued dialogue throughout their tenure.
"Your team always arrive with smile on" is a comment often heard from our customers about our team members, always being in great spirits!
We are Bonded & Insured